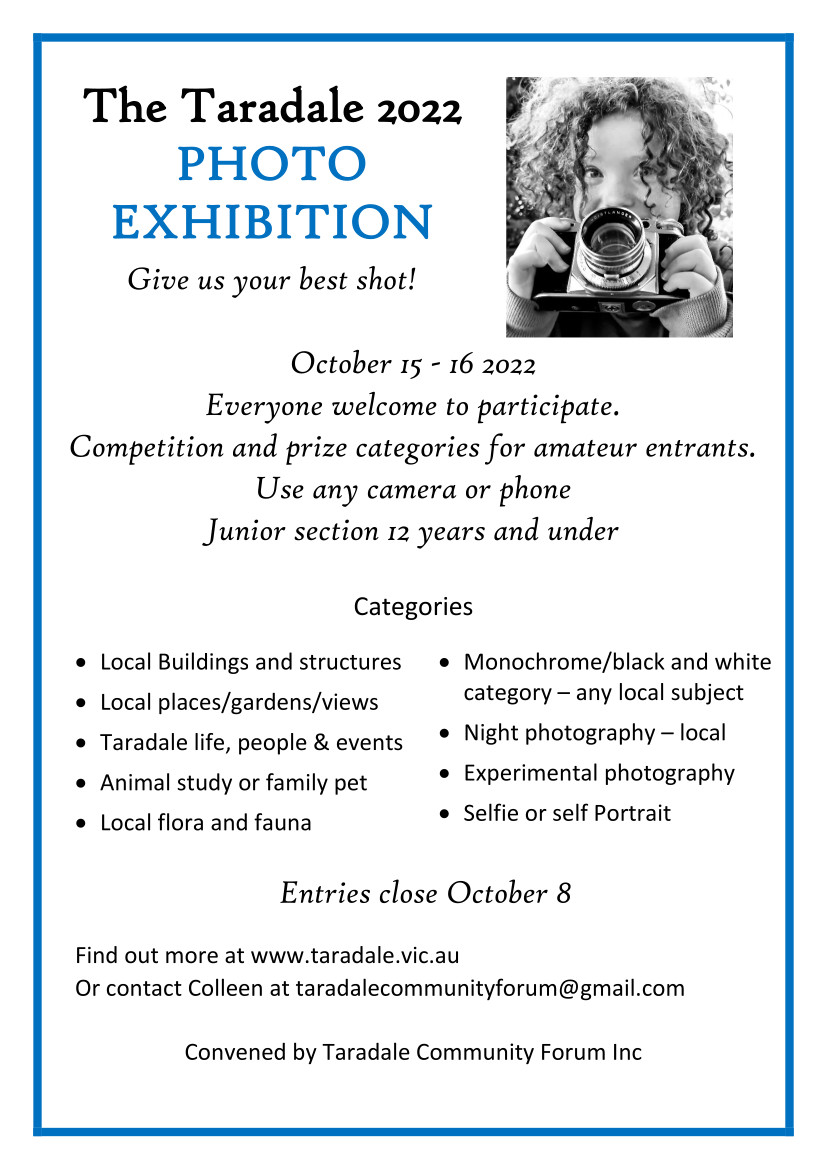 TARADALE PHOTOGRAPHIC EXHIBITION 2022
DETAILS OF THE COMPETITION AND CONDITIONS OF ENTRY
Overview
Taradale Community Forum Inc. is running this event to showcase local photographic talent and
inspire photographs of Taradale subjects that might then be available to promote our town.
Entries close on 8 th October 2022
There will be an exhibition of all entries over the weekend of 15 th – 16 th October at Taradale Hall. Entries will be judged by a panel of qualified judges.
Announcement of winners will be made during the official opening of the exhibition at 3pm on Saturday 15 th October.
There will be awards for the top adult entries overall and the top junior entries (12 years and under), subject to eligibility – amateur photographers only.
A People's Choice Award will also be conducted during the exhibition.
There will be an opportunity to sell your work if you wish.
Prizes (amateur photographers only)
Prize certificates will be awarded for First, Second and Third places in each category.
Prizes will be awarded for the best adult and junior entries in the exhibition.
Winners will be notified by phone if they are unable to attend the Opening.
Competition Categories
The following categories of subjects and/or techniques will be available to competition entrants:
1. Local Buildings and structures
2. Local places/gardens/scenic views.
3. Taradale life, people and events
4. Animal study or family pet
5. Local flora and fauna
6. Monochrome/black and white category – any local subject
7. Night photography – local.
8. Experimental photography
9. Selfie or self Portrait
Registration of Interest for the Competition
To help us with organisation, please register your interest in participating by emailing or calling Colleen Jones at taradalecommunityforum@gmail.com or 0403744045. This will also mean you will be kept up to date with information about the exhibition.
Entry Details and Conditions
Entries close on Saturday 8 th October and all entries must be delivered to Taradale Hall,
together with payment for entry fees, on that day between 10 am and 4 pm.
* Payment can be made in advance into the Taradale Community Forum bank account.
The Entry Fees are:
$5 per photograph for adult entrants, $3 low income.
$2 per photograph for junior entrants, as defined below.
Bank Details:
TARADALE COMMUNITY FORUM INC BSB: 06 3517 ACCT NO. 1006 6068
Please include surname as reference!
For the purposes of this competition, 'local' shall be defined as being within a 10 km radius of Taradale Post Office.
This Photographic Exhibition is open to all local photographers. The competition and prize eligibility is for amateur only. Potential entrants whose primary source of income is, or has previously been, derived from photography are ineligible to enter the competition, but are welcome to display, and potentially sell, their work. (Contact us to discuss this.)
For the purposes of this competition a junior shall be defined as a person born after August
1, 2009
All photographs must be original and taken by the entrant and must not have been exhibited elsewhere previously.
Entries submitted must be presented as mounted photographic prints having a maximum size of 40 cm x 50 cm overall including the mount. (If you are entering a panoramic or other shaped photo that doesn't suit these parameters, please contact us to work something out.) Framed photographs and photographs mounted on heavy plywood or particle board are not allowed. All prints must be mounted at the entrants' expense. Unmounted prints andframed photographs will not  be accepted. (We plan to have a mounting workshop on Saturday 8 th October, when people submit entries, if people need assistance with this.)
Entries where the photographic image is smaller than 15 x 10cm can be difficult to judge fairly and may therefore be disadvantaged. Entries of small images are not encouraged for this reason.
A maximum of 10 entries per person will be allowed.
Each photograph may be entered in one category only.
All accepted entries will be displayed at an exhibition held in Taradale Hall from 10 am to
5pm Saturday 15 th October and 10 am to 4 pm Sunday 16 th October 2022.*
At the end of the competition, entries may be collected from the Taradale Hall on Sunday between 4 pm and 5 pm (if this isn't possible, other arrangements can be made).
The organisers reserve the right to reject and not judge or display any photographs deemed
to be offensive.
By entering the Competition, the photographer agrees to have their work/s exhibited.
The entrant's name, address, telephone contact details and category entered, together with the entrant's distinguishing entry number in the event that they submit more than one entry in each category, must be clearly provided on the back of the work or works submitted.
Entrants must be able to supply upon request, a digital file of their entry/entries to a minimum resolution of 300 dpi, at no cost to the competition organisers.
A condition of entry is that the entrant allows their work or works (winning and non-winning) to be reproduced free of  charge on the Taradale Website, and in any other necessary medium, to be used for promotional purposes in the interests of Taradale.
The judging panel's decision is final and objections will not be considered.