Town History
Taradale is a small village in central Victoria, Australia with a population of about 450. It is located on the Malmsbury to Elphinstone Road (formerly the Calder Highway) 100 km from Melbourne and 50 km from Bendigo. Taradale is located on the Melbourne to Bendigo railway line, although the Taradale railway station closed in 1976. The most obvious landmark in town is the Taradale Viaduct. This impressive structure carries the railway 36 metres above the Back Creek and was constructed from 1858 to 1862.
Taradale was established following the discovery of gold in central Victoria in 1851 and a petition was made to the Governor of Victoria in 1861 to proclaim the municipality of Taradale. A number of gold mining activities were carried out in and around the town including washing for alluvial gold in the Back Creek and the sinking of shafts. Evidence of the former mining activities is still visible throughout the area. The town lies on the route from Melbourne to Castlemaine and was a stopover for the famous Cobb and Co. Coach line which began in 1854 between Melbourne and Bendigo. The Taradale Post Office opened on 1 March 1856 and is now located in the Metro fuel station. The Taradale Primary School opened in 1855 making it one of the oldest schools in the state. Taradale is named after the birthplace of geologist Sir Roderick Murchison, Tarradale House in Scotland. Many of the local streets are named after famous scientists and geologists of the day, including Charles Lyell, Roderick. One of Taradale's early residents, Henry Alley, an immigrant from Ireland subsequently moved to New Zealand in the late 1850's and named his farm in the Hawke's bay area 'Taradale', which is now a successful town.
Taradale was bypassed by the Calder Freeway in 2008, making the town much more peaceful.
Walking tour
There are 12 historical signboards installed at key locations, forming an interesting walking tour of the town. The map shows a total of 36 historical sites. The positions of the signboards are indicated in the map key below.
Key to map. Numbers relate to numbers on map.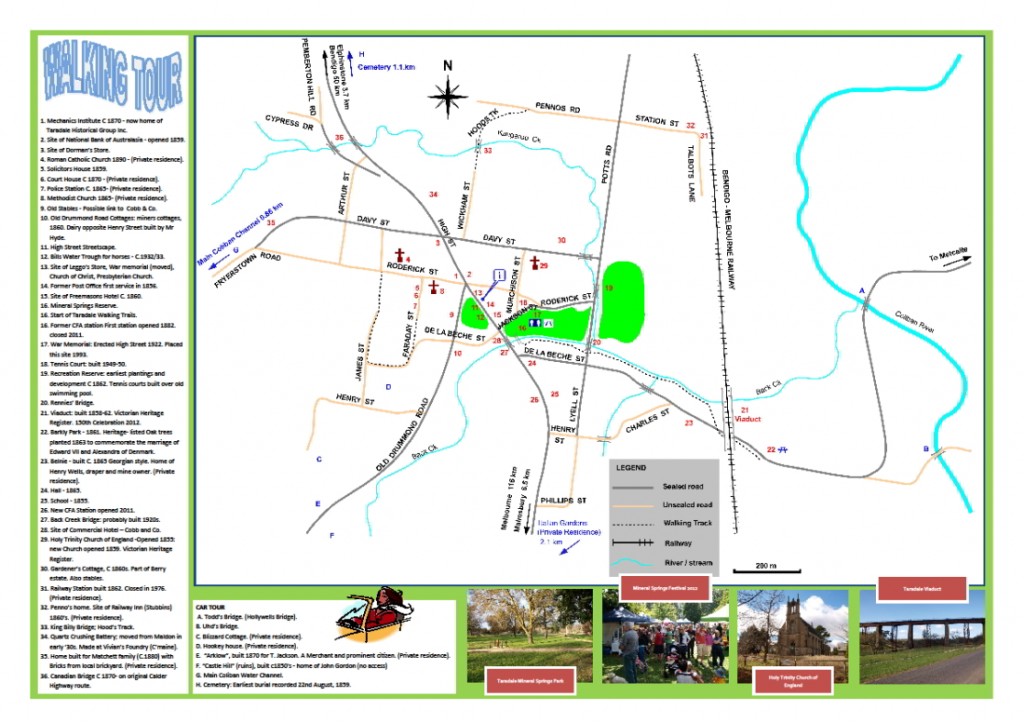 1(signboard 1). Mechanics Institute C 1870 – now home of Taradale Historical Group Inc. originally named the 'Taradale Athenaeum'. This building has had many uses including a library, polling booth and meeting rooms. It was restored in 2010-2011.
2.(signboard 1) Site of National Bank of Australasia – opened 1859.
3. (signboard 2)Site of Dorman's Store. : Dorman Bros. Bakery and Store began trading in 1907. Brothers William Edgar (Ted) and Gifford Stephen (Giffie) owned and managed the business, baking and selling bread, groceries, farming needs and stock feed. Horse drawn wagons delivered these goods to Drummond, Malmsbury, Metcalfe, Redesdale, Sutton Grange, Spring Hill, Elphinstone and Taradale. The business grew rapidly into a general store. Cakes, catering, newspapers and magazines were added, and as motor vehicles replaced wagons a petrol bowser was installed. Vagabond bushranger Charles Sanger was captured outside this store on June 21st 1914. Sanger appeared in Taradale court and received a 5-year sentence. The store traded successfully for forty-seven years until it was sold in 1954 to new owners, then finally closed and the building was demolished.
4.Roman Catholic Church 1890 – (Private residence). Known as St. John the Evangelist (Roderick Street). The church was consecrated by the Roman Catholic Archbishop Dr. Carr, on November 23rd, 1890. It was constructed with bricks reputed to have come from England as ballast in a sailing ship. A Catholic School, N◦ 636, run by Mrs Mary Shearer was also on this site before its demolition c1910. The last Mass was celebrated in 1956 and the Church deconsecrated in 1972 before the building was sold by auction.
5.(signboard 3) Solicitors House 1859. Austin Solicitor's Office which was later used as a Mining Registrar's Office until c1900. The original single-fronted brick building became the home of Miss Annie Mudd and the Picken family.
6. Court House C 1870 – (Private residence). The Court House was completed in 1866 of triple brick on a bluestone foundation overlooking the township, at a cost of ₤1256. It was later used as a Polling Booth before becoming a private residence.
7. Police Station C. 1865- (Private residence). This site was first used as a Police Station c1865/66 until 1915. Squatters occupied the site until 1922. Then, in 1927, it became the Water Bailiff's residence until 1961. In 1963 it was sold for ₤1200.
8. Methodist Church 1865- (Private residence). The first Methodist Church was built at 'Talbot Hill' in 1857 and opened in October 1859. It was pulled down in 1864, and the bricks (which were manufactured in Taradale) used to build a larger church which opened on 13th August 1865. Now closed.
9. Old Stables – Possible link to Cobb & Co. The former Coach Road (Roderick Street) Ran through the Fryers Ranges to Fryerstown. Local legend has it that the existing stables near this corner were also used by Cobb and Co.
10. Old Drummond Road Cottages: miners cottages, 1860. Dairy opposite Henry Street built by Mr Hyde.
11. (signboard 4)High Street Streetscape. As a result of the gold rush Taradale grew to be a large town. However after World War 1 many of the buildings were dismantled and the bricks used in other towns.
12. Bills Water Trough for horses – C.1932/33. Site of Leggo's Store. On this corner stood the original G.B. Berry "Beehive" Store c1883-1892 and then owned by John Annear 1892-1912 then James Leggo 1912-1924. It was later demolished and the site sold to establish a service station
13.(signboard 5) The Church of Christ: Opened for worship in 1885 after an Evangelical Campaign conducted by Stephen Cheek. Two hundred people were able to be seated in this weatherboard building that had a welcoming front porch. It closed in 1927 and was later removed.
Also on this site: The St Paul's Presbyterian Church, erected to accommodate 400 people, opened in 1865. It was a substantial building lit by chandeliers. Later it was the meeting place for the Orange Lodge and Rechabite Lodge. It closed c.1930. Finally after demolition, the bricks were used to rebuild the Barfold Union Church burnt down in the 1944 fires.
14. (signboard 6) Former Post Office 39,000 letters and 17,500  newspapers arrived in Taradale every year; this building was operating as a joint Post and Telegraph Office by 1863. It moved in 1870 to the more imposing two storey Colonial Bank building on the opposite side of the road. In the 1920's it moved back into this original building. Metcalfe mail was also sorted and distributed from here and the local telephone exchange operated from this building. All telegrams were sent here as very few people had telephones in their homes until after World War Two. From 1872 the Post Office was almost exclusively staffed by female officers. The building is virtually unchanged externally. Notice the well-worn bluestone front step. Now a café, wine bar and pizzeria, open Friday, Saturday and Sunday.
15. Site of Freemasons Hotel C. 1860. Next door to the Post Office , first licensed in 1860. It had seven owners during its history, the last being Frances Jane England who was licensee when it was de-licensed in 1909. It was Taradale's last licensed premises. There were about twenty-two hotels in Taradale in its history of which two were converted to dwellings. The building remained empty for many years finally becoming derelict. It was demolished in the 1970s.
16. Mineral Springs Reserve. The Taradale mineral spring is a sodium magnesium bicarbonate water. The spring was developed later than many other mineral springs in Victoria. A new bore to the spring was drilled in 2002.
17. War Memorial: Erected High Street 1922. Placed this site 1993. Was erected, after World War One, in High St next to churches (13) in time for Armistice Day, November 11th, 1921 after public donations raised three hundred pounds. For safety reasons the monument was moved to a tranquil setting in the Mineral Springs Reserve in October 1993. Services are held regularly each year for Anzac Day and Remembrance Day.
18. Tennis Court: built 1949-50. Also stables.
19. Recreation Reserve: earliest plantings and development C 1862. Tennis courts built over old swimming pool.
20. Rennies' Bridge.
21. (signboard 7)Viaduct: built 1858-62. Victorian Heritage Register. 150th Celebration 2012. Constructed between 1858 and 1862. The viaduct rises 36 metres above the Back Creek and is 198 metres long. In 1933-1934 the steel columns were added to strengthen the structure. On the 15th October 1862, 1200 people are said to have gathered at the Taradale police paddock to celebrate the opening of the Melbourne & Murray River railway with a children's picnic & sports day. Workmen reportedly decorated the viaduct with three flag festooned triumphal arches through which the official train slowly passed while the dignitaries inside acknowledged the cheers of the spectators. The Taradale viaduct was the last major work to be completed on the line between Melbourne & Bendigo and is listed on the Victorian Heritage Register.
22. Barkly Park – 1861. Heritage- listed Oak trees planted 1863 to commemorate the marriage of Edward VII and Alexandra of Denmark.
23. Belnie – built C. 1865 Georgian style. Home of Henry Wells, draper and mine owner. (Private residence).
24. (sign 8–plaque). Taradale Hall  –  The original Oddfellows Hall was built in 1860 facing the street with a front door and two windows. A few years later, as it became a centre for social and community activities, the floor plan was altered to increase floor space. In 1926 fire destroyed the Golden Age Hotel causing damage to the Hall next door.
25. (signboard 9) Taradale Primary School, No. 614, was opened on 1st of April, 1855 with an enrolment of 27 students. It was built with a 300 pounds National Board grant and 150 pounds raised locally. In 1863 the school received its current number of 614. Early in the school's history, some day students were enrolled from the age of 2 years and 8 months. By 1874 the Education Department had completed additions that enabled the school to cope with its highest enrolment of 205 students in 1877 when mining activity was at its peak. In 1875 night classes were held for male students aged between 12 and 21
26. New CFA Station opened 2011.
27. Back Creek Bridge: probably built 1920s.
28. (signboard 10) Site of Commercial Hotel – In early 1854 Mrs Geraldine Nicholson, an English widow, took over this hotel on this site and became Taradale's best known publican. Most hotels provided meals for passengers who had to pay for the convenience of being served at odd hours, while the quality of meals and accommodation varied greatly. Soon it became an important change station on the new Cobb and Co.'s Melbourne to Bendigo route. Although the Cobb & Co fare cost £7 each way (a month's wage), it was very popular -being more comfortable and reliable and taking only 10 hours, half the time of the opposition. A groom had to prepare 5 horses (one spare) in readiness for four coaches which arrived each day. By late 1861 Cobb and Co was bought by James Rutherford, a young American entrepreneur, and associates. Rutherford had been fined in Taradale Police Court in July that year for assaulting a groom. Ada Nicholson, the publican's daughter, married Rutherford. They moved to Bathurst NSW and developed a flourishing trade as far as Queensland. The Commercial Hotel was burnt down at 3am August 24 1914.
29. (signboard 11) Holy Trinity Church of England opened on October 11th, 1859 costing over 2000 pounds. An unusual feature is the three identical Gothic arched openings with octagonal turrets at the west end- the upper opening being a sham belfry and mock balcony. It has been classified 'D' by the National Trust. The original simple church, built three years earlier, later became the Sunday school /Parish Hall. Both buildings were designed by Thomas Turner. The church closed in 2012. It is currently a privately-run wedding venue.
30.Gardener's Cottage, C 1860s. Part of Berry
31.(signboard 12)  Taradale Railway Precinct: The line was officially opened for passengers on 15th October 1862 and goods traffic on 9th March 1863.The bluestone building consists of a single storey office and waiting facilities at one end and a two storey residence at the other. The bluestone goods shed is a unique design with finely crafted detail. The station verandah was demolished a number of years ago, despite local attempts to save it. Taradale Station is a substantially intact example of the first standard station building erected for the Victorian Railways. It is a simple design featuring stonework of an exacting standard and complemented by finely tooled door and window surrounds and sills.
32. Penno's home. Site of Railway Inn (Stubbins) 1860's. (Private residence).
33. King Billy Bridge; Hood's Track.
34. Quartz Crushing Battery; moved from Maldon in early '30s. Made at Vivian's Foundry (Castlemaine).
35. Home built for Matchett family (C.1880) with bricks from local brickyard. (Private residence).
36. Canadian Bridge C 1870- on original Calder Highway route.