About Taradale
Our vibrant rural hamlet, Taradale Victoria, is home to a small, dynamic community of farmers, entrepreneurs, business people, artists, writers, tree changers, commuters, retirees and more. Taradale Victoria offers a broad range of facilities, activities and community events for visitors and residents alike. As at the Census of 2016, Taradale Victoria has a population of 448.
Taradale Victoria is nestled in a picturesque valley of cleared farming land surrounded by native forests and dominated by the Taradale Viaduct, constructed in 1862. This former gold rush town and stopping point on the Calder Highway has a significant built historic legacy as well as the advantages of an idyllic and peaceful environment.
We are a vital community committed to pursuing a progressive and well-serviced future for our town whilst respecting and appreciating the history we are privileged to enjoy.
History of Taradale
The area of Taradale is Jaara country of the Dja Dja Wurrung community. In 1837 it was part of a 58,600 acre pastoral lease granted to Alexander Mollison. He named this run 'Coliban'. Traffic from Melbourne to Bendigo passed through the Coliban run and crossed Back Creek at a small settlement of the same name which provided services to travellers. As traffic increased following the Forest Creek gold rush, Back Creek was renamed Taradale. By the late 1850's, following the Taradale rush in 1856, the township population swelled to reach an estimated 2,500 but for most of its history Taradale's permanent population was between 200 and 400.
In addition to gold mining, the main industries in Taradale Victoria have historically been farming and providing services to travellers. The last operating mine in Taradale closed in the 1960's. The Calder Highway ceased to be the main arterial from Melbourne to Bendigo in 2009 with the opening of the Calder Freeway to the east of the town. Mixed farming is still pursued in the area as well as hobby farming, stone quarrying and boutique wine and food production.
The peaceful idyllic surrounds, described in an 1865 Argus as '…the most varied and beautiful on the whole line of the Melbourne and Mt Alexander Road', have become a popular retreat from the city as well as a haven for artists and commuters who are convenient one hour journey from Melbourne.
We acknowledge that Taradale is on Jarra Country of the Dja Dja Wurrung Community. We acknowledge through the Taradale community that their forebears are the traditional owners of the Taradale area and have been custodians for many centuries and have performed age old ceremonies of celebration, initiation and renewal. We acknowledge their living culture and their unique role in the life of this region.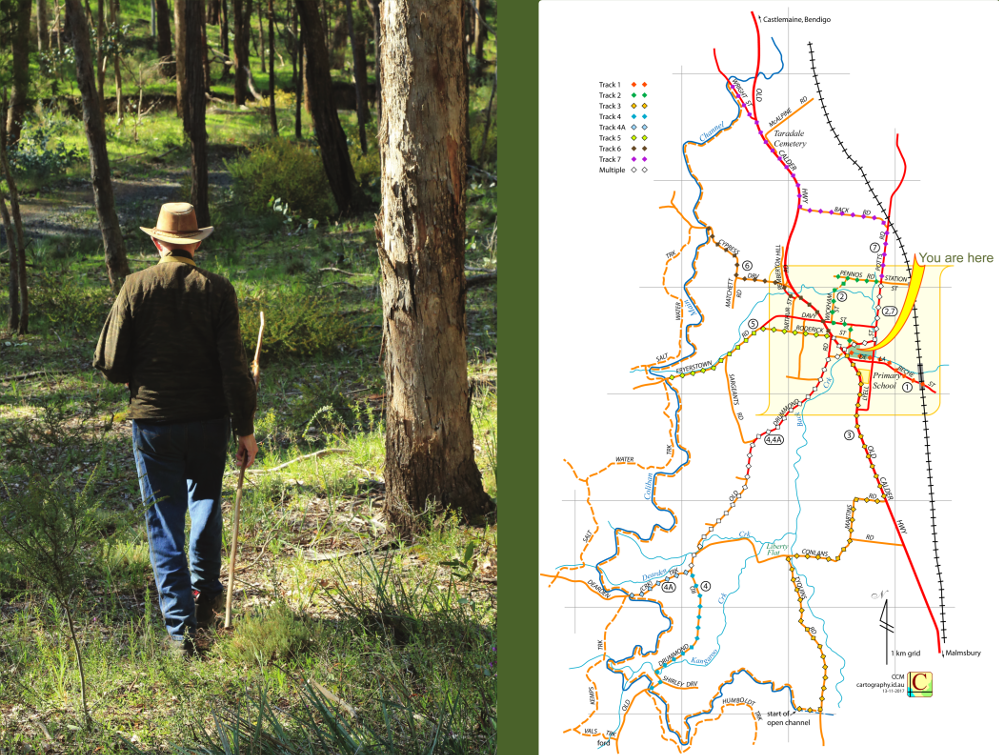 TARADALE BY TRACK & TRAIL